Rent Majesty 88 Emerald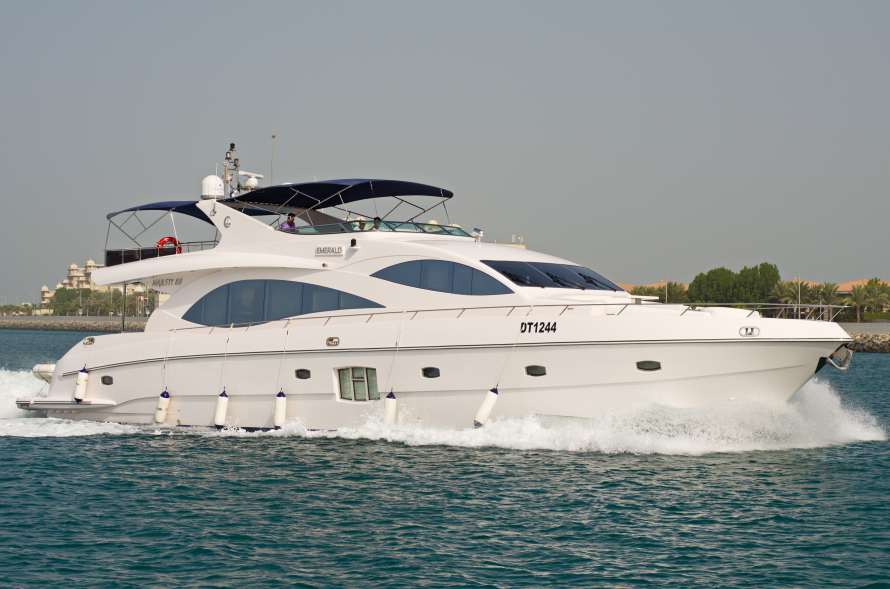 Majesty 88 Emerald
With an efficient sea handling capacity, Majesty 88 is a luxurious superyacht with a trend setting design. On the flybridge the facilities of bar and barbecue are unmatchable. Besides world class interior furnishings, the main salon is distinguished by full length panoramic windows enhancing the view of gleaming crystal clear water.
The access to the aft deck is monitored by a large center opening sliding door. Its 2 stateroom suites, 1 master and 1 double suite are just what is needed for complete comfort onboard. The main salon serves as an entertainment center fully loaded with state of the art gadgets including TV, DVD, and AM/FM stereo cassette with CD player.
---
Rent yacht in Dubai - Special offer
The LSB Charter team has developed five ready-made cruise routes for renting this boat in Dubai. You can choose any of them, according to your preferences and the time you have for a  boat trip.
How to rent Majesty 88 Emerald
To rent Majesty 88 Emerald please contact us via phone +971 56 115 16 24 or email charter@luxuryseaboats.com
If you have any additional questions about charter and additional services feel free to contact us.
In addition to Majesty 88 Emerald you can find a list of yachts for rent in Dubai and motor boats for rent in Dubai on the main page of the LSB Charter website. A wide list of additional services is provided in the Additional service section, but we always meet our customers ' needs and are ready to try to fulfill any of your wishes.
Categories: All boats and yachts Dubai Marina, JBR, Atlantis and Burj Al Arab tour Swimming tour Dubai Water Canal Tour Friday Trip