Rent Azimut 50 Grand Crew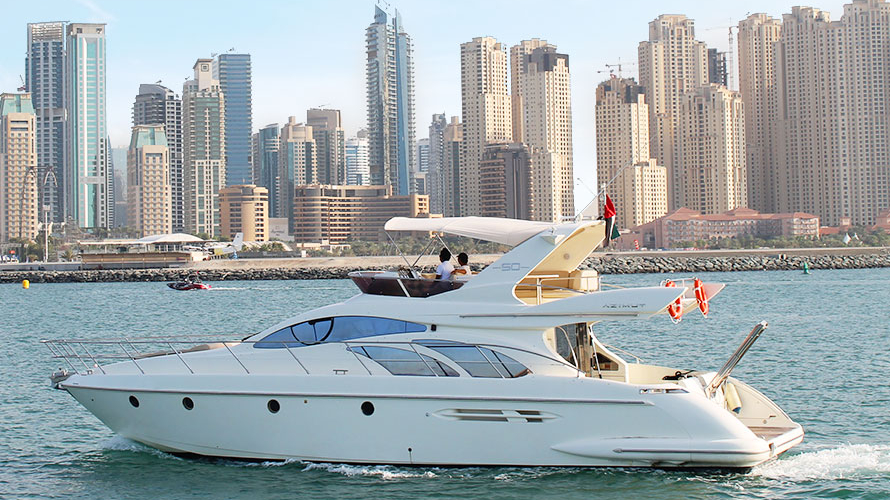 Azimut 50 Grand Crew for rent
Motor yacht of premium class, one of the model range of gliding yachts with a huge deck and flybridge. It is designed to meet the needs of every guest. Would you like to have a bright party, sunbathe and enjoy a sea cruise? The Azimut "Grand Crew" with a length of 16 meters is at your service. It's also an ideal platform for organizing an offshore fishing trip in Dubai.
The main distinguishing feature of the vessel is its sporty appearance and smooth sailing.
The yacht is executed in classical style: elegant curves, quiet tones, natural materials, ergonomic furniture, cozy spacious cabins. All this makes the rest comfortable and unforgettable.
WHAT IS ON THE YACHT?
The snow-white flybridge features an area with a shade canopy, which can be removed on request if you decide to sunbathe. There are also comfortable sofas, tables and a bar with a refrigerator upstairs. In the bow, there are plenty of lounge chairs for more privacy.
The guests will enjoy the semi-open-air recreation area with soft chairs and sofa-transformer on the main deck.
The lower deck has a galley for preparing meals and two cabins that can carry up to 4 guests. Two of them have queen-sized beds and each cabin has a bathroom.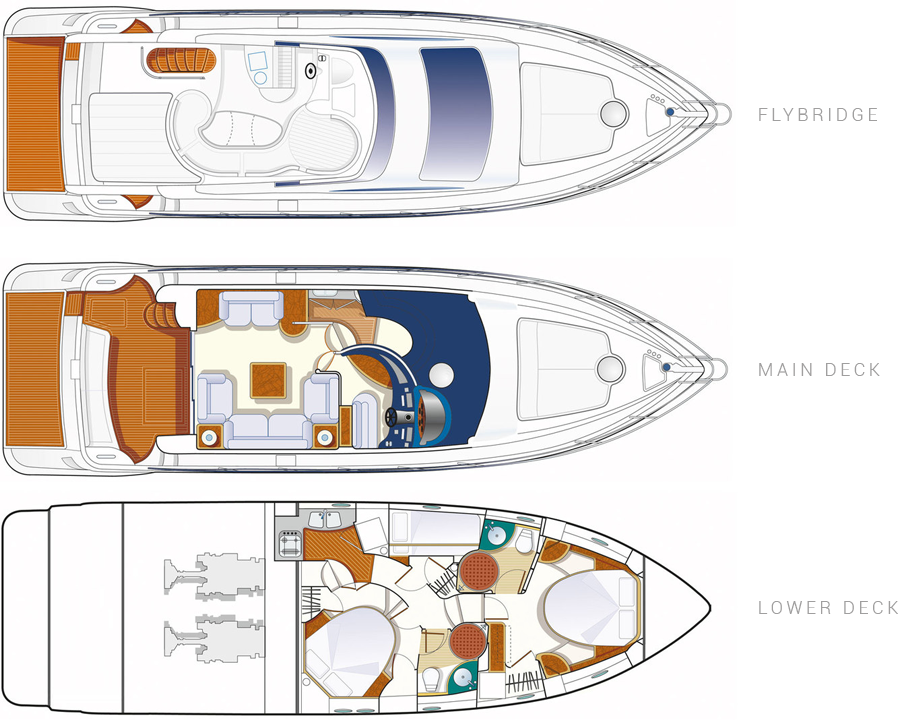 Capacity
Azimut Grand Crew can comfortably accommodate up to 21 guests for a day cruise.
Overnight accommodation is available for up to 4 guests.
Service
The yacht rental price includes drinking water, soft drinks and towels.
You can use our additional services. You can learn more about the additional service here or ask our specialists a question.
---
Rent yacht in Dubai - Special offer
The LSB Charter team has developed five ready-made cruise routes for renting this boat in Dubai. You can choose any of them, according to your preferences and the time you have for a  boat trip.
How to rent Azimut 50 Grand Crew
To rent Azimut 50 Grand Crew please contact us via phone +971 4 364 05 67 or email charter@luxuryseaboats.com.
If you have any additional questions about charter and additional services feel free to contact us.
In addition to Azimut 50 Grand Crew you can find a selection of yachts for rent in Dubai and motor boats for rent in Dubai on the main page of the Luxury Sea Boats Charter website. A wide list of additional services is provided in the Additional service section, but we always meet our customers ' needs and are ready to try to fulfill any of your wishes.
Categories: All boats and yachts Swimming tour Dubai Water Canal Tour