Rent Azimut 55 8ofUS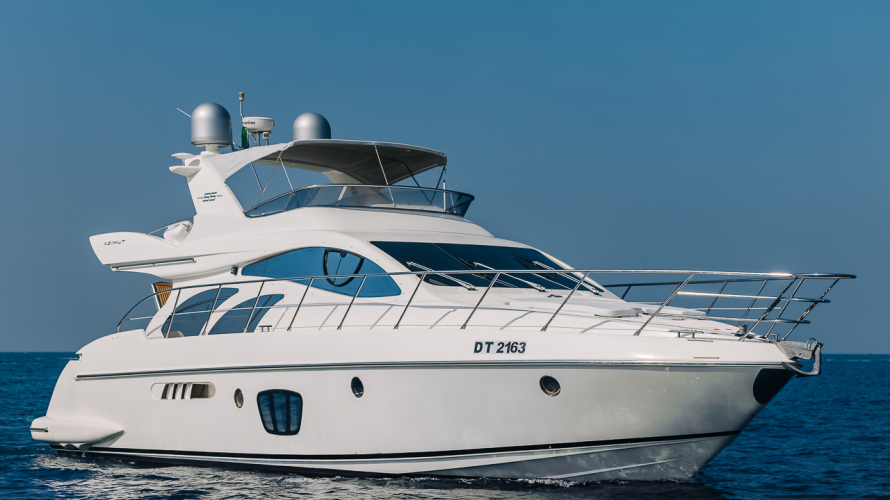 Azimut 55ft 8ofUS for rent
Drive, comfort and safety – this is what awaits the one who rents this boat for a sea cruise in Dubai. The gliding Azimut 55ft 8ofUS with excellent driving characteristics guarantees its guests unsurpassed pleasure from a high seas walk at speeds up to 32 knots.
A sophisticated silhouette with a beveled windshield and elongated flybridge lines provides the aerodynamic qualities of the yacht and makes it always look as if it had just been caught in a swift movement. This 55-foot boat is one of the most popular models of the famous brand, demonstrating impeccable style, uncompromising luxury and reasonable practicality at the same time.
You can embark on a sea cruise on the Azimut 55ft 8ofUS from jetty 3 at Dubai Marina. That's where your dream holiday is beginning.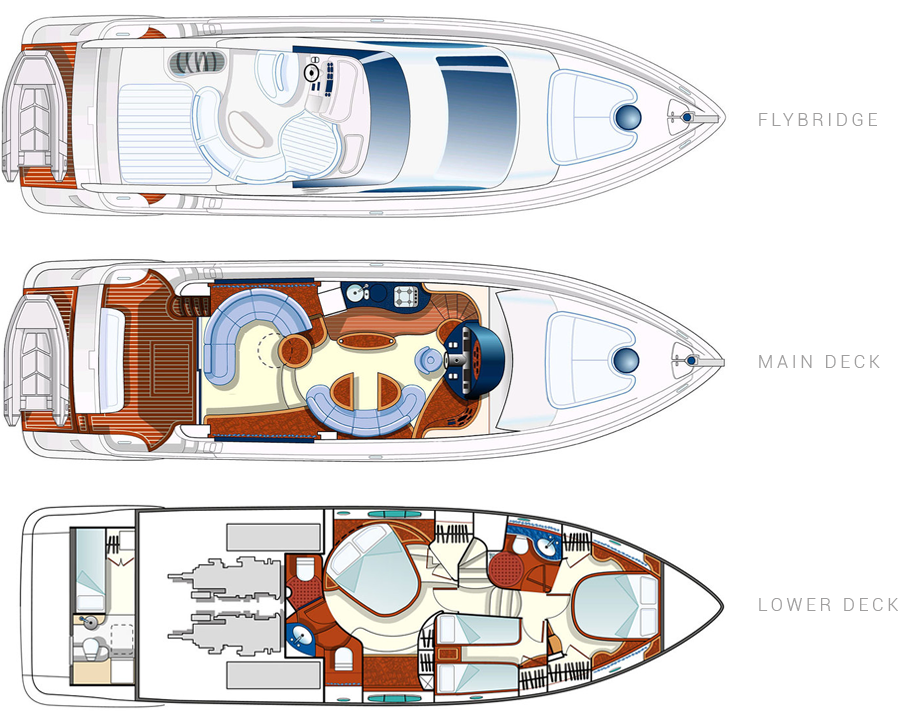 Equipment
The yacht's flybridge is so spacious that there are two relaxation areas at the same time: a large U-shaped sofa with a coffee table under an awning and a huge sunbed for several people for sunbathing. A large swimming platform on the main deck and a well-protected raised cockpit are simply designed for an active water recreation.
The comfortable lounge on the main deck is flooded with light, thanks to the huge portholes and thoughtful artificial halogen lighting. Two spacious comma shape sofas in light leather give comfort and completeness to the relaxation area. The oval table in the dining area has a removable central section and, if necessary, can be transformed into two mini-tables, providing easy access to the sofa from all sides.
Perfectly planned and equipped galley allows you to use the cook services or to cook something by yourself directly on board the yacht. And the guest cabins of the lower deck are so comfortable that you will want to stay there for the night.
Capacity
The yacht size and thoughtful organization of the space allows you to comfortably and pleasantly spend time here both in solitude and in a large company of up to twenty people. Are you planning to relax with your friends and to have fun gliding along the waves with a nice breeze in your faces? Then the Azimut 55ft 8ofUS is what you need.
Service
A professional crew of a captain and two his assistants will accompany you on a sea cruise from Dubai Marina. Fresh drinking water, soft drinks and towels are included in the rental price.
To make your vacation begins long before you step aboard the Azimut 55ft 8ofUS, we are ready to assume the organization chores for your event. Some more information about additional services and other details of renting a yacht in Luxury Sea Boats Charter, you can clarify here or our specialists by phone: +971 56 115 16 24.
---
Rent yacht in Dubai - Special offer
The LSB Charter team has developed five ready-made cruise routes for renting this boat in Dubai. You can choose any of them, according to your preferences and the time you have for a  boat trip.
How to rent Azimut 55 8ofUS
To rent Azimut 55 8ofUS please contact us via phone +971 4 364 05 67 or email charter@luxuryseaboats.com
.
If you have any additional questions about charter and additional services feel free to contact us.
In addition to Azimut 55 8ofUS you can find a selection of yachts for rent in Dubai and motor boats for rent in Dubai on the main page of the Luxury Sea Boats Charter website. A wide list of additional services is provided in the Additional service section, but we always meet our customers ' needs and are ready to try to fulfill any of your wishes.
Categories: All boats and yachts Swimming tour Dubai Water Canal Tour Friday Trip