Rent Azimut 75 Viktoria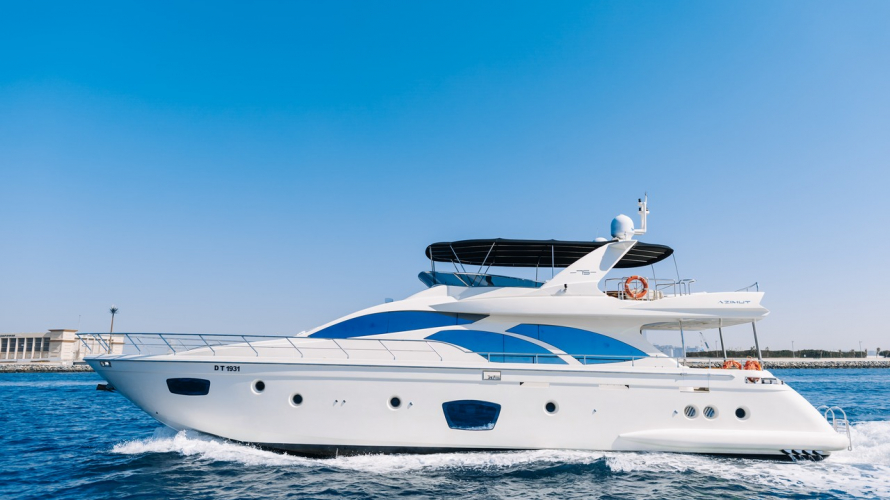 Azimut 75 Viktoria for rent
Azimut "Viktoria" is a real work of art. The elegant curves, stylish design, comfort and incredible speed characteristics make the yacht one of the most popular yachts for luxurious holidays and festive gatherings in the circle of close people.
WHAT'S ON THE YACHT?
The vessel is impressive in its chic size. The upper huge deck is its highlight, from here you can observe the sea beauties from above, as well as relax on soft leather sofas or sunbathe in the open air. Such a luxurious vacation is the dream of many.
The 23-meter yacht has an impeccable style and is equipped with everything necessary for a full leisure, both for a couple of hours and for a long trip.
The main salon is equipped with a U-shaped settee for large numbers of guests. There is also a dining area with a comfortable roomy table, sofas, leather armchairs, a refrigerator, a bar and a barbecue.
A fully equipped galley is available for those who wish to prepare their own meals.
Yacht's staterooms are executed in classical elegant style, wooden furniture, light leather trimming, spacious rooms and bathrooms with everything necessary for comfortable overnight stay. King size beds and separate single beds are provided.
Capacity
Azimut Viktoria can comfortably accommodate up to 40 guests for a day cruise. Overnight accommodation is available for up to 6 guests.
Service
The yacht rental price includes drinking water, soft drinks and towels.
You can use our additional services. You can learn more about the additional service here or ask our specialists a question.
---
Rent yacht in Dubai - Special offer
The LSB Charter team has developed five ready-made cruise routes for renting this boat in Dubai. You can choose any of them, according to your preferences and the time you have for a  boat trip.
How to rent Azimut 75 Viktoria
To rent Azimut 75 Viktoria please contact us via phone +971 4 364 05 67 or email charter@luxuryseaboats.com.
If you have any additional questions about charter and additional services feel free to contact us.
In addition to Azimut 75 Viktoria you can find a selection of yachts for rent in Dubai and motor boats for rent in Dubai on the main page of the our website. A wide list of additional services is provided in the Additional service section, but we always meet our customers ' needs and are ready to try to fulfill any of your wishes.
Categories: All boats and yachts Swimming tour Dubai Water Canal Tour