Rent Azimut 58 Friends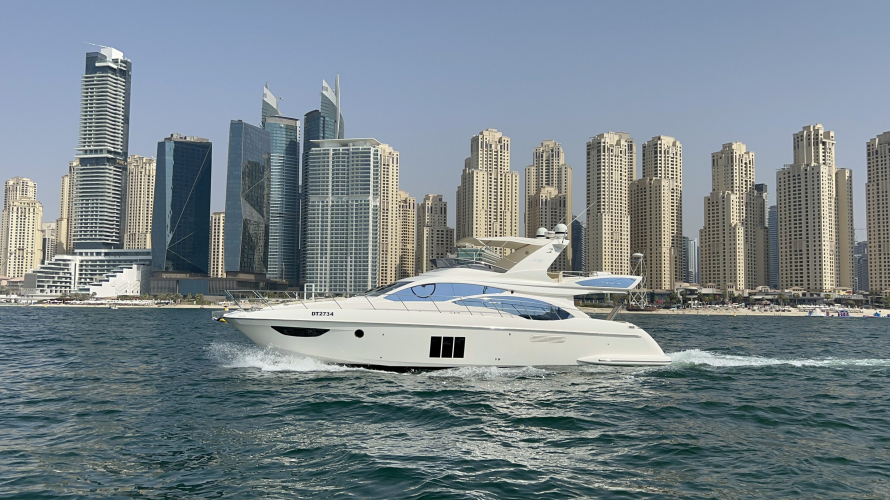 Azimuth 58 Friens3 for rent
This 18-meter gliding yacht with a flybridge is equally good for a family holiday or an active boat trip in the waters of Dubai with friends, as well as for a festive event or a business meeting in the fresh air. The harmonious combination of sports assertiveness of the exterior and elegant sensuality of the interiors will bring boundless pleasure to guests of any age and lifestyle.
Azimut 58 Friens3 is made of natural materials and meets all the requirements of comfort and safety on a sea cruise. It can accelerate to 32 knots.
An ingenious solution that unites and connects a wide walking deck with a tank, bridge, cockpit and saloon creates an unusually large space for yachts of this size. And the superstructure glazing in the shape of shark fins keeps the guests of the Azimut 58 Friens3 in continuous contact with natural light and the sea landscape.
Equipment
The vast flybridge and cabin have comfortable open spaces for a perfect holiday. Two large sunbeds for several people, a spacious long sofa with a folding coffee table, a bar and a refrigerator enable you to arrange a small feast for eight people under an awning or relax, taking sunbaths in the fresh sea wind.
On the yacht bow, there are additional soft sunbeds for those who prefer to sunbathe in solitude. The large bathing platform is equipped with a hydraulic gangway for more convenient ascent/descent to the pier. In the open sea, it used as a diving tower.
At will, the salon, penetrated with light, may be used as a shelter from the bright sun or as a part of the sunbathing area. Its chic comma-shaped sofas are trimmed in light beige leather and are very comfortable.
The galley is small, but equipped with built-in appliances, quite enough for cooking dinner on board.
You can truly relax in the cosy air-conditioned spacious yacht cabins. They all have private bathrooms and toilets.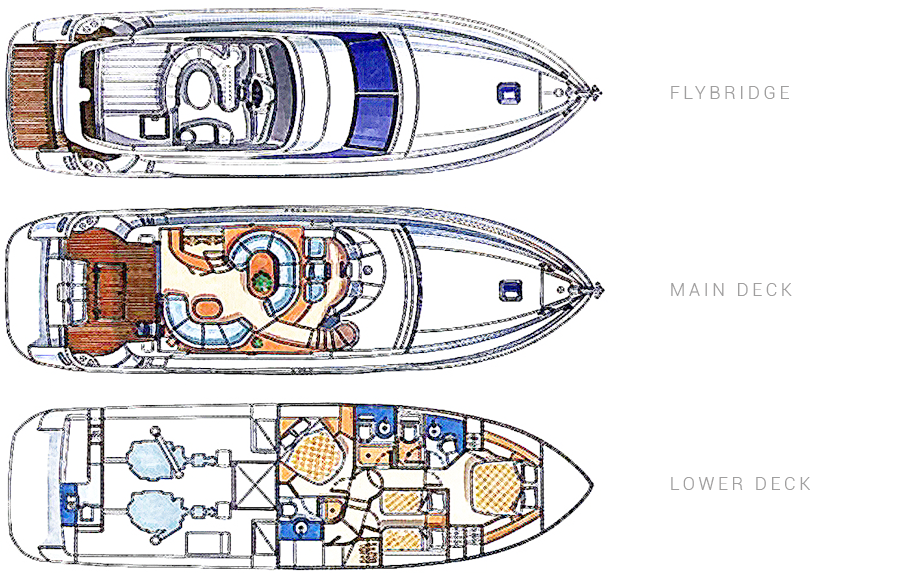 Capacity
In addition to the three-person crew that will accompany you from Dubai Marina to the sea cruise, the yacht is ready to take on board and give an unforgettable twenty-three guests experience concurrently.
Service
The yacht rental price already includes: fresh drinking water, soft drinks and towels for all guests.
To make your holiday as serene and pleasant as possible, our experts are ready to take care of catering on board and decorate the yacht especially for your event. In addition, we offer a shuttle service for you and your guests to the Azimut 58 Avventura mooring point. More details about all types of additional services you can find here or check with our specialists — contacts.
---
Rent yacht in Dubai - Special offer
The LSB Charter team has developed five ready-made cruise routes for renting this boat in Dubai. You can choose any of them, according to your preferences and the time you have for a  boat trip.
How to rent Azimut 58 Friends
To rent Azimut 58 Friends please contact us via phone +971 4 364 05 67 or email charter@luxuryseaboats.com.
If you have any additional questions about charter and additional services feel free to contact us.
In addition to Azimut 58 Friends you can find a selection of yachts for rent in Dubai and motor boats for rent in Dubai on the main page of the our website. A wide list of additional services is provided in the Additional service section, but we always meet our customers ' needs and are ready to try to fulfill any of your wishes.
Categories: All boats and yachts