Corner a Wave in Dubai
The Arabian Gulf in the Dubai area is infinitely beautiful and surprisingly calm. The man-made reefs of Palm islands obscure coastal waters from sea waves and create ideal conditions for wakesurfing and wakeboarding. Fans of these types of water sports come to Dubai almost all year round.
Gorgeous pearl white beaches of the UAE as a magnet attracts not only lovers of impressive and comfortable rest in the azure waters, but also those who prefer an active pastime with some extreme sports. Wakesurfing and, even more wakeboarding gives a stunning rush of adrenaline and allow you to keep fit. These cutting-edge water sports have become one of the most popular entertainment on the coast of Dubai.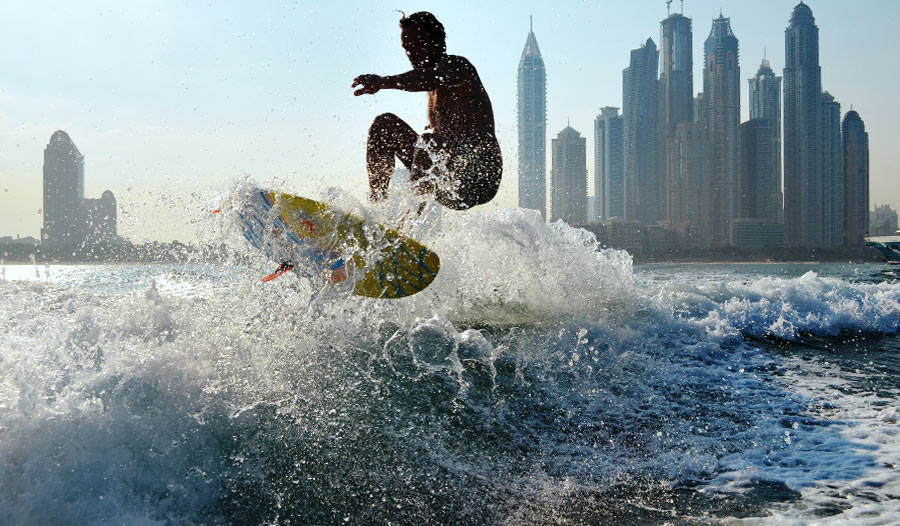 If you want a warm sea and bright sun, but are not ready to splash in shallow water or lie in a sunbed with a cocktail in hand, but playing volleyball under the burning sun is too hot for you, you can always rent a sports boat and enjoy the splash of water, the cool wind and the magnificent view of Dubai, playing with a high wave of sports boat.

WAKE — A PLEASURE FOR EVERYONE!
Who said that water sports is an exclusively for a professional athletes? Both a teenager and a mature man who do not have special skills can very quickly study water-skiing, wakeboarding or wakesurfing to a level that will allow you to get a lot of positive emotions and the real pleasure from feeling sliding on water at a speed of 29-40 km/h. Of course, it is better to start training with an instructor. He will help you to get the basic skills. The rest will depend on your individual learning speed, general fitness and ability to keep balance.
The Luxury Sea Boats Charter Company not only provide a professional tow boat and water sports equipment, but also offers the assistance of a team of professionals who will delicately, step by step, learn to use the board or water skiing, keep the balance and catch a wave.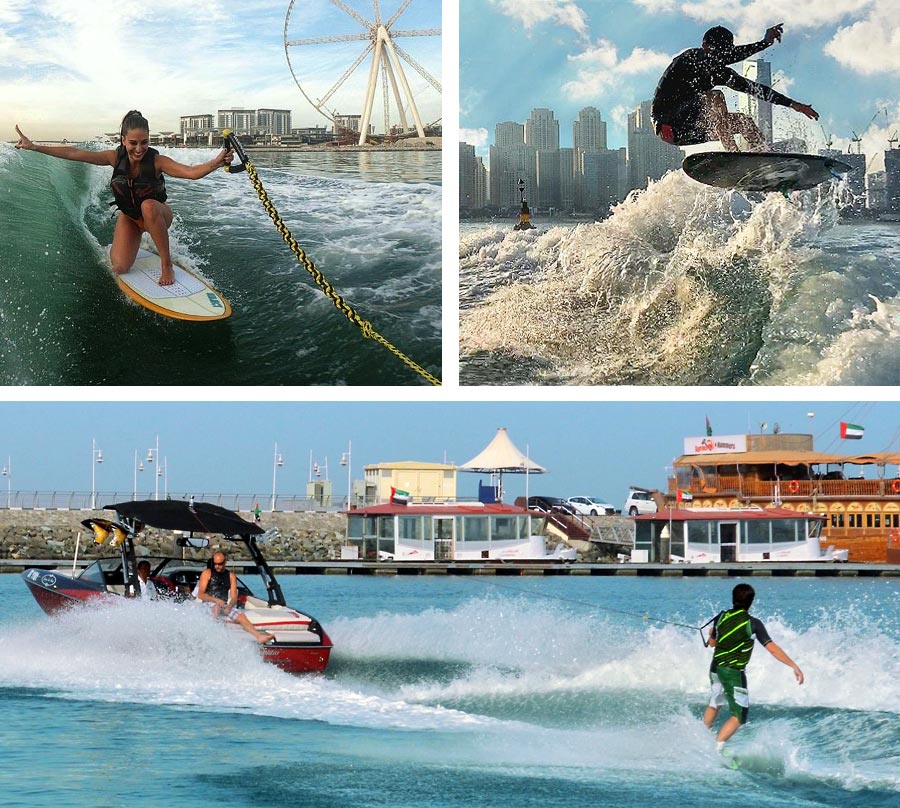 WAKESURFING vs WAKEBOARDING. HOW TO CHOOSE?
Wakesurfing is the little bit simplest form other water sports. It is enough to have a water sport boat (but with special ballast system) and a simple surf board without boots. To start out of the water, use a special surf rope attached to the towing boat. After gaining speed, the rider drops the rope and slide along the wave created by the boat.
For wakesurfing, your physical condition is not so important as the desire to catch the wave, so it is most suitable for the beginners.
Wakeboarding is an amazing sport that combines elements of snowboarding, surfing and water skiing. The rider on the special board moves in the wake of the towing boat, holding onto the wake line. During the movement, he makes various jumps and coups, for the performance of some of them the athlete deviates from the course to get on the wave created by the boat. At such moments the line can be shifted from hand to hand.
Performing elements of slalom, jumping over the waves and acrobatic stunts require, even from a professional athlete, serious coordination and dexterity. Nevertheless, wakeboarding can be adapted to the beginner as well.
CATCH THE WAVE!
A pleasure boat or an ordinary motorboat create low flat waves, which are completely unsuitable for wakesurfing or wakeboarding. A surfer just needs a constant and high breaking wave, preferably in the shape of a letter V. A wakeboarder will not do jumps and stunts without a powerful trampoline wave. In addition, the boat outside the stern should have a swimming platform for a sportsman to go into the water, so as not to break the wave at the start. For such purposes, there are powerful sports towing boats equipped with ballast-tanks and capable of deeply submerging to create waves of a certain height and shape.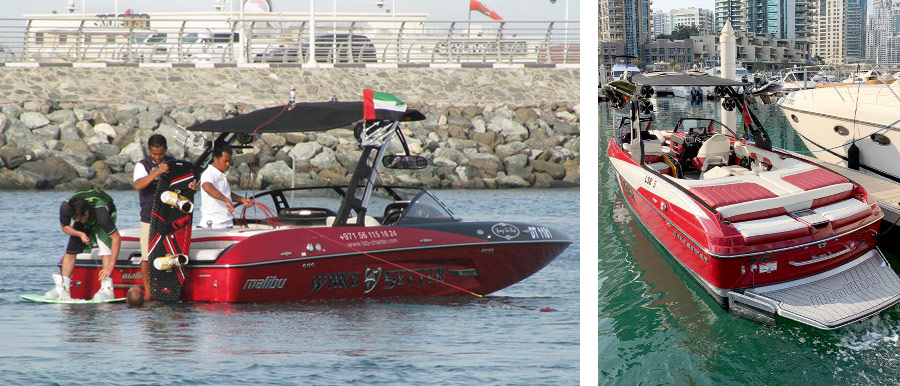 Luxury Sea Boats Charter offers for a rent only professional towing boats from the world leading manufacturers. If you rent a boat from us, you will get the newest water sport boat with the best wave in Dubai, captain and crew services, equipment for wakeboarding, wakesurfing or water skiing, towels and water, as well as a lot of fun and an unforgettable impression as a special gift.