A FAMILY PICNIC ON THE YACHT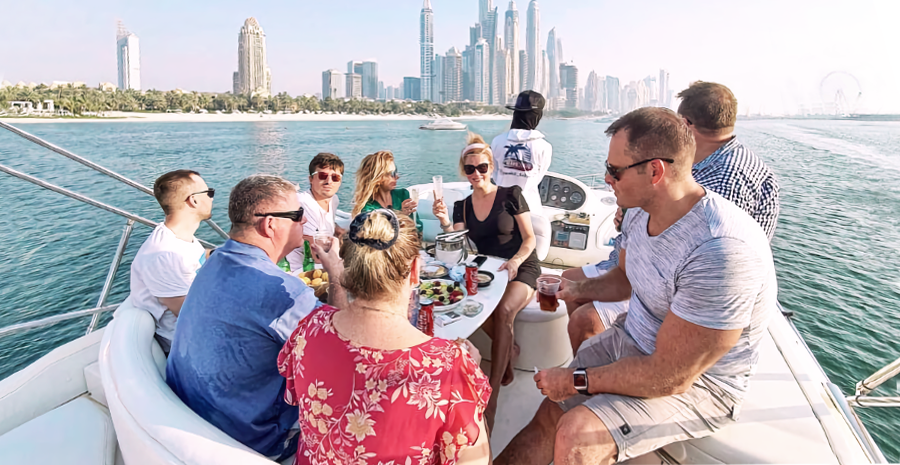 What could be better than a pleasant weekend with your family? Perhaps it could be a real picnic right on board the yacht during a joint walk along the picturesque canals of Dubai. Everyone without exception will get a wonderful mood from this little trip.
Magnificent views of the chic embankments of the metropolis, bliss sparkling around the waves and intimate communication with family over a meal in the fresh air will be guarantee of an unforgettable vacation for adults. For children, such a trip can be an amazing sea adventure, during which they will feel like a brave cabin boy or even a ship captain.
The Luxury Sea Boats Charter team has developed several cruise routes along Dubai's most spectacular coastal landscapes. Our experts will be happy to help you to choose among them the most interesting and suitable for you in duration. In addition to the standard route, we are always happy to prepare for you an individual boat trip plan with short stops for swimming or more detailed sightseeing.
For a family picnic, you can rent any yacht or boat in our fleet. Fresh water and refreshing drinks await you on board each of them. If you would like us to prepare certain dishes and snacks in advance for a pleasant feast — just let our team know about your intention and preferences in choosing the menu.
Safety on board our vessel is one of the priorities of Luxury Sea Boats Charter. There-fore, we ask you to inform us in advance whether you plan to take children with you on the cruise, as well as the age and approximate weight of each child, so that we can prepare special life jackets for them.
Welcome aboard Luxury Sea Boats Charter!