Rent Notorious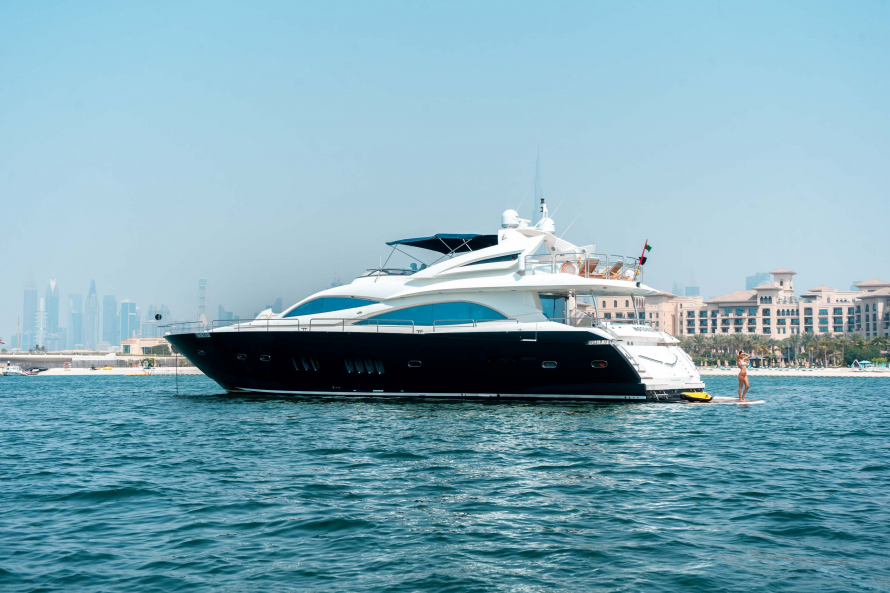 Charter of the Notorious 90 yacht
The 28m Notorious 90 takes its worthy place in the Sunseeker luxury yacht range. The exclusive design and absolute comfort on board at a speed of 20-28 knots will leave a lasting impression on everyone who charters this yacht.
The space of the ship is organized in such a way that it is ideal for both a relaxing holiday with loved ones, and for business meetings or corporate events. The yacht is equipped with all the necessary equipment for a long stay on board.
Equipment
The flybridge lounge area is divided into 2 parts. A small bar with a counter and a fridge for light outdoor dining adjoins the sun deck. The large bathing platform is accessed by two wide and comfortable staircases. The powerful Bose PA audio system lets you enjoy your favorite tracks anywhere on the yacht.
All areas of the vessel are air conditioned and have Wi-Fi access. High-tech running and anchor stabilizers provide excellent hull stability and an adequate level of safety on the high seas.
It is pleasant to relax in the elegant salon even in a large company, comfortably sitting on two wide sofas around a coffee table. The spacious dining area with a huge mahogany table is perfect for a dinner party or serious negotiations.
Comfortable cabins Notorious 90 are completely ready for a multi-day holiday with an overnight stay on the high seas. The master bedroom has a small living room with a sofa and dressing table.
Capacity
The Notorious 90 is great for short-term rentals for events of up to 20 people and for long trips with 10 people.
Service
The safety and comfort of your trip will be provided by a crew of two people: the captain of the vessel and the sailor. There are fresh towels and a fridge with refreshments on board the boat.
If you plan to rent a Notorious 90 yacht for active recreation or fishing, we can provide all the necessary equipment upon request. Also we can provide transfer to the marina where the boat is moored.
---
Rent yacht in Dubai - Special offer
The LSB Charter team has developed five ready-made cruise routes for renting this boat in Dubai. You can choose any of them, according to your preferences and the time you have for a  boat trip.
How to rent Notorious
To rent Notorious please contact us via phone +971 56 115 16 24 or email charter@luxuryseaboats.com
If you have any additional questions about charter and additional services feel free to contact us.
In addition to Notorious you can find a selection of yachts for rent in Dubai and motor boats for rent in Dubai on the main page of the Luxury Sea Boats Charter website. A wide list of additional services is provided in the Additional service section, but we always meet our customers ' needs and are ready to try to fulfill any of your wishes.
Categories: All boats and yachts Dubai Marina, JBR, Atlantis and Burj Al Arab tour Swimming tour Dubai Water Canal Tour Friday Trip