Rent Dolce Vita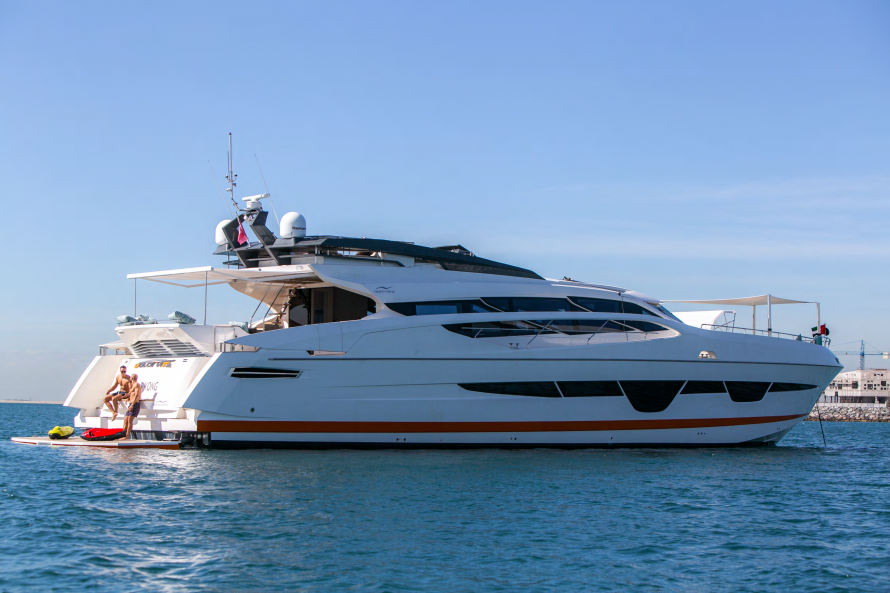 Dolce Vita yacht charter
The charter 32-meter (105 ft) Dolce Vita gives its guests an unprecedentedly luxurious yachting experience. Not only the yacht is an example of sporty design, but also defies the imagination with its level of comfort and functionality. Two Caterpillar engines allow you to travell at a cruising speed of 26 knots and reach a top speed of - 30.
The interior and exterior of the yacht are designed in Hi-Tech style, filled with natural light, which makes the interiors even more spacious and airy. For lovers of active water leisure activity , a nice addition will be the ship's garage, which houses jet skis, navy beans and other sports equipment.
A variety of equipment and a large number of outdoor recreation areas make Dolce Vita ideal for any kind of relaxation in the water area of Dubai, both with a family and with a large team.
Equipment
There is a panoramic platform with sofas and coffee tables on the bow of the yacht, under the awning. Another dining area ft the stern is complemented by sun loungers. You can also arrange a light meal or a buffet on the huge flybridge with cozy sofas and sun loungers.
The open-plan saloon on the main deck united the lounge and dining area. Everything is targeted to creating an ideal comfort for guests there. There are huge panoramic windows, long sofas with several coffee tables, and a cozy couch in the center.
At the bow of the lower deck there are 3 spacious guest cabins with private bathrooms. In the center, across the entire width of the salon, there are master apartments with a king size bed, a large TV, a refrigerator, an entertainment system and a bathroom with a spacious shower and two sinks.
Capacity
Dolce Vita is ideal for a day charter of 25 people or for an extended overnight cruise for 4 guests.
Service
The safety and comfort of your trip will be provided by a crew of two people: the captain of the vessel and the sailor. There are fresh towels and a fridge with refreshments on board the boat.
If you plan to rent a Dolce Vita for active recreation or fishing, we can provide all the necessary equipment upon request. Also we can provide transfer to the marina where the boat is moored.
---
Rent yacht in Dubai - Special offer
The LSB Charter team has developed five ready-made cruise routes for renting this boat in Dubai. You can choose any of them, according to your preferences and the time you have for a  boat trip.
How to rent Dolce Vita
To rent Dolce Vita please contact us via phone +971 56 115 16 24 or email charter@luxuryseaboats.com
If you have any additional questions about charter and additional services feel free to contact us.
In addition to Dolce Vita you can find a selection of yachts for rent in Dubai and motor boats for rent in Dubai on the main page of the our website. A wide list of additional services is provided in the Additional service section, but we always meet our customers ' needs and are ready to try to fulfill any of your wishes.
Categories: All boats and yachts Dubai Marina, JBR, Atlantis and Burj Al Arab tour Swimming tour Dubai Water Canal Tour Friday Trip