Rent Code8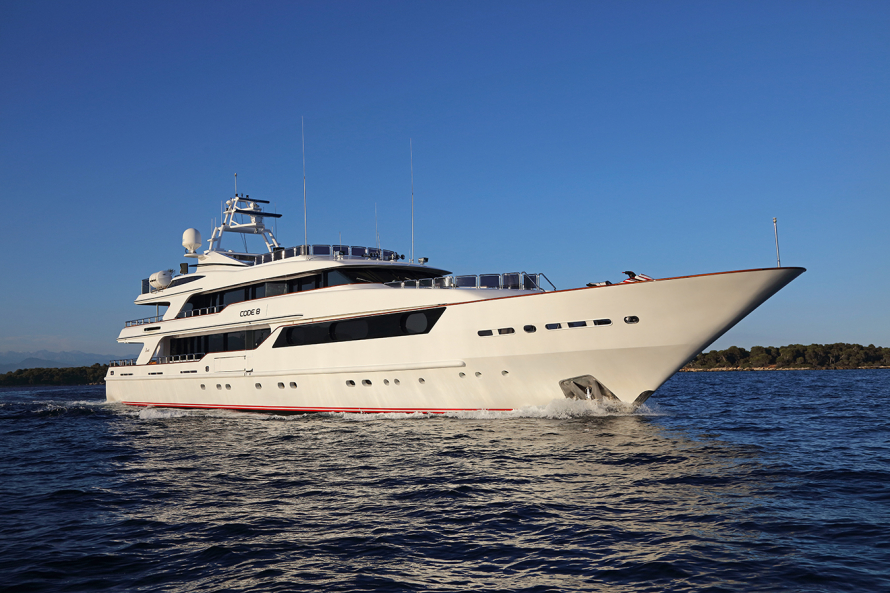 Rent of the yaht Code 8
In terms of comfort, quality of service and the variety of entertainment offered, staying on Code 8 doesn't concede, and in many ways even surpasses the rest in most 5-star hotels in Dubai. The famed quality of Benetti boats, enormous experience in the construction of mega-yachts, an individual approach to design and close attention to the needs of potential customers make this yacht perfect for long cruises with family or friends.
Extensive open spaces with elegant decor, cool terraces, several beach areas in addition to lounges, a large bar with a long counter and soft sofas on the flybridge are ideal for hosting large numbers of guests for special occasions and memorable events. On the 4 decks of the superyacht, there are enough closed and cozy seating areas for you to get some privacy and relax from the noisy party.
Equipment
The excellent modern engineering equipment and Code 8 design features made this yacht ideal for 50 people on board at once. Even at maximum boat speed and in bad weather conditions, you will not lose your sense of security and relaxation. There is a garage with jet skis and water sports equipment in the bow section below deck.
The spacious aft area of the yacht is devoted to the beach club with wide access to the swimming area. Code 8 terraces are equipped with outdoor or soft furniture from the world's leading brands. There is a large Jacuzzi so guests can relax and unwind in the bubbling water at their preferred temperature.
It offers 5 cabins with luxurious interior decoration: two of them are double, 2 are VIP and a master suite. All cabins have separate toilets, air conditioning, built-in entertainment centers and TV.
Capacity
Code 8 is ideal for a day charter of 50 people or for an extended overnight cruise for 12 guests.
Service
The safety and comfort of your trip will be provided by a crew of two people: the captain of the vessel and the sailor. There are fresh towels and a fridge with refreshments on board the boat.
If you plan to rent a Code 8 yacht for active recreation or fishing, we can provide all the necessary equipment upon request. Also we can provide transfer to the marina where the boat is moored.
---
Rent yacht in Dubai - Special offer
The LSB Charter team has developed five ready-made cruise routes for renting this boat in Dubai. You can choose any of them, according to your preferences and the time you have for a  boat trip.
How to rent Code8
To rent Code8 please contact us via phone +971 56 115 16 24 or email charter@luxuryseaboats.com
If you have any additional questions about charter and additional services feel free to contact us.
In addition to Code8 you can find a selection of yachts for rent in Dubai and motor boats for rent in Dubai on the main page of the Luxury Sea Boats Charter website. A wide list of additional services is provided in the Additional service section, but we always meet our customers ' needs and are ready to try to fulfill any of your wishes.
Categories: All boats and yachts Dubai Marina, JBR, Atlantis and Burj Al Arab tour Swimming tour Dubai Water Canal Tour Friday Trip